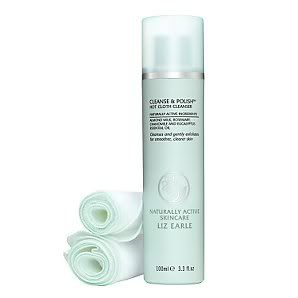 It's cleanse and polish's fifteenth anniversary.
It's only 13£ (for the started pack and 11.50£ for just the 100ml pump) and i've discovered it's cult for a reason.
I have a very snobby skin routine (cleanse, exfoliate, tone and moisturise, mask on occasion) but this has changed everything.
This one product cleanses and exfoliates.


'Phase 1 is the cleansing. Free from mineral oil, it has a rich and creamy texture and swiftly removes all traces of face and eye make-up, even stubborn mascara.
Phase 2 is the polishing. Polish off the cream using the pure muslin cloth to help gently dislodge dead skin cells and help reveal clean, soft and radiant skin.
'
It's lovely.
You can either have a lifetime of beautiful skin or that one perfect pair of in season shoes (to be exact,
Alexander McQueen's Angel Black Shearling Leather Boot
price = 695£ , 695 ÷ 11.50 =
60.43 tubes of liz earle cleanse and polish
instead of those oh so darling shoes).
LOVE