NOW CLOSED
I'm very excited about this giveaway. A while ago i came across
SteamDesigns
and i was amazed.
They're so different to anything i've seen. You wouldn't think you could get this amount of beauty out of an everyday object. I've been obsessed with pocket watches and i've once taken one apart to see the 'workings' but never to this extent.
My favourite items from
SteamDesigns
are as follows,,
(Steampunk by SteamDesigns Oval Watch Movement Adjustable Ring)
(Steampunk by SteamDesigns Clip On Watch Movement Earrings,
lovely as my ears aren't pierced)
(Steampunk by SteamDesigns Vintage Watch Movement Bracelet with Swarovski Pearls and Crystals)
I was so interested into how these came about. I've always been told by teachers to include what when why where and how so here are Daniel's (
the owner of steamdesigns)
answers-

What: Steampunk as a whole is a subculture. The generally accepted idea is a future from a different past. Steampunk jewelry within the subculture is jewelry with a gear, cog or mechanical theme and often Victorian themed.

When: Toward the end of 2009...

Why: my girlfriend and I were frequently visiting any market that was close to us. At one particular market stashed away in a tiny town in the hills, I came across a jewelry who had fantastically mind bending jewelry. "What is this?" I asked her. She replied "It's Steampunk". I was overwhelmed by the detail in this amazing jewelry from the moment I saw it, but had never heard of Steampunk before. Returning home that night I goggled the term "Steampunk". I was shocked to discover so many Steampunk themed jewelry. I was so drawn to the little watch movements, it wasn't long before I was searching trash and treasure markets and all the corners of the web for my own supplies to begin creating the works of art I was so thrilled with.

Where: The supplies for my jewelry literally come from all corners of the world. Many of the pieces vintage and having already served a life time as some thing different. They are taken apart and recreated, given new life and purpose.

How: Once all my supplies have found there way to my work bench I go about piecing together what will be the final piece. I always keep in my mind that simple is best. I try not to overwhelm any individual jewelry piece. I try to let the vintage cogs, gears and metals speak for themselves as each of them present there own story often in very different ways.

(as an english person, we spell jewellery differently, forgive)
And finally
This is the ring i have to giveaway,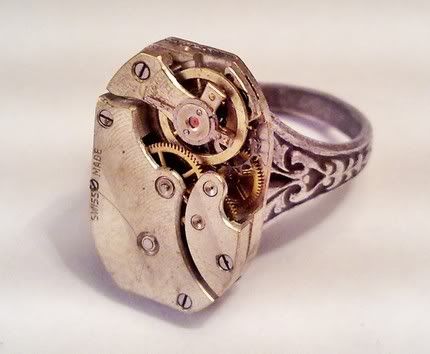 I couldn't get a clear photo through film but here's a glimpse
I could stare at this ring for hours, it's hypnotising. There are so many little details.

How:
You can enter in three ways:
1) By emailing hiven@live.co.uk with your name (i've had to disable comments for a while as people kept telling me they weren't working, starting with email seemed easier than having to swap over for that reason)
2) By linking to my blog and emailing (on your blog, facebook, twitter, myspace, or any other site, each link will count for two entries) simply www.hivennn.blogspot.com or in a fancy html way
3) By visiting steam designs on etsy and including in your email your favourite piece (this counts as two entries)

T&CS
-you must be a follower to qualify , i will check
-if you do not reply to the 'winners email' within four days, i will reallocate the prize
-please include proof of linking to my blog
-anyone can enter, anywhere in the world, it doesn't cost anything
-winners will be picked randomly using a lottery approved number randomiser
-if you win, once i've sent off your prize (i'll pay for packaging) i'm not responsible for any other charges or loses (i will get proof of postage)
-no cash alternative
GOOD LUCK ALL
NOW CLOSED
Look out for that email.