CLOSED
Jacqui from
Shea Beauty
has sent me a lovely bundle of items to giveaway to one of you.
At
Shea Beauty
they do not use any harmful synthetic chemicals, fragrance, colourants, preservatives or animal ingredients in any of our products.
It's good for you, the products smell delicious and it's not harming the world. Triple win really.


"My inspirations are all things natural. I am totally passionate about all natural beauty, bordering on obsessed probably. Research suggests that around 60% of what we put on our skin is absorbed into our skin and that women ingest around 4lbs of lip product each year and if we don't want all the chemicals in our body or food, we definitely don't want them on our skin either. The cycle is turning back to a more natural/organic lifestyle which is fantastic. Natural ingredients have been tried and tested for thousands of years, Cleopatra was said to bathe in milk & honey and early Aborigines used tea tree.
You need are passion, a lot of hard work & dedication!"
The bundle includes,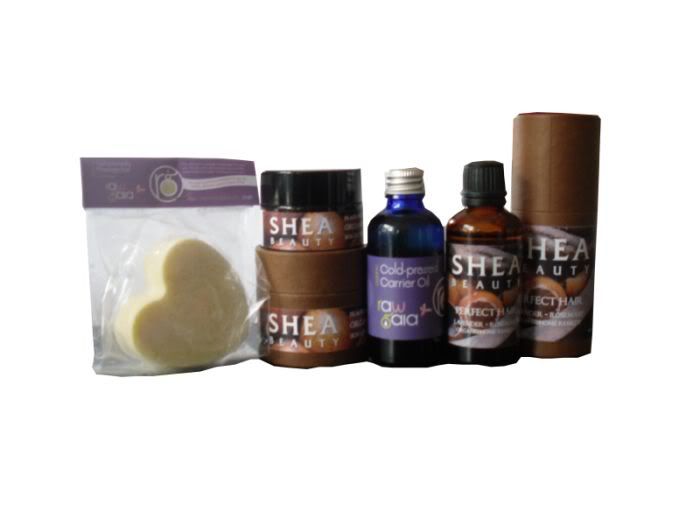 (left to right -beauty massage bar, baby butter, argan oil& perfect hair
worth a total of £32.25)
Argan oil is huge at the moment and i have a bottle of it pure to giveaway. You'll find it on the label of the majority of cult beauty products. There are so many different thing's you can use it for (in food too , "Tagines and Couscous: It adds a nutty flavor to tagines, stews and couscous, imparting an aroma reminiscent of hazelnuts.", get inventive), here's another beauty related example
Hair-
Helps condition hair, restore shine to hair & care for the scalp. For an intensive treatment, apply argan oil to dry hair and wrap in a towel for 30 mins, or overnight, then wash hair as normal. For scalp problems/dandruff, concentrate the oil on the scalp & hair roots. Can also be used on dry, styled hair to reduce frizz by applying a very small amount and warming between hands, then scrunching into hair.
Because all of these products are so pure, you only need to use a little bit at a time so they will last ages.

To qualify you must:
1) Email hiven@live.co.uk with your name
2) Like me on the book of face and include your fb name in the email

For extra entries:
-By linking to my blog and emailing (on your blog, facebook, twitter, myspace, or any other site, each link will count for two entries) simply www.hivennn.blogspot.com or in a fancy html way,
- By visiting Shea Beauty and including in your email your favourite product (this counts as two entries)
-Be a follower


T&CS
-if you do not reply to the 'winners email' within four days, i will reallocate the prize
-anyone can enter, anywhere in the world, it doesn't cost anything
-winners will be picked randomly using a lottery approved number randomiser
-if you win, once i've sent off your prize (i'll pay for packaging) i'm not responsible for any other charges or loses (i will get proof of postage)
-no cash alternative
CLOSED
Look out for the winner's email i'll be sending soon.